home

classes

master

team of instructors

videos

library

testimonials

dojo news
---
"The longest journey starts with a first step." Today is and you could take your first step now, by enjoying your FREE TRIAL CLASS at our Institute.
---
---

Our kids classes focus very much on the educational aspects involved. The RESPECT for class, colleagues, the sense of duty and the responsibility, the power to focus and follow up a goal, these are a few words to describe our teaching environment. We treat our students with respect as for a "warrior", which makes them feel very proud and want to prove that they deserve it. Our students realize that everything is possible if they really want it and work hard for it, a philosophy that is extended later in their school, family and society.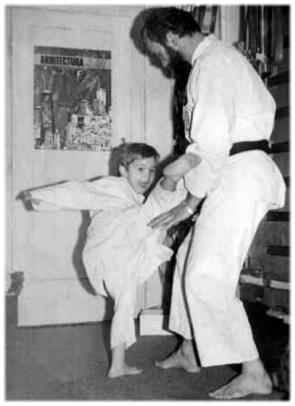 Sensei Raul Chinda, age 4, begins his martial arts training




In our classes, students will develop motivational thinking, focusing to a goal and the sense of accepting a hard work. We teach at the beginning, rolling and falling techniques, grappling and eventually attacks, blocks, and more complex combinations. It is demonstrated that the aggressiveness of our students decreases proportionally with their progress in our Dojo. Parents reward us with great appreciation and thanks for interacting with them in the educational process.
Your children's benefits include:

Self defense techniques and body strength


A dramatic improvement in aggressive behavior control


Self discipline, and emotional control


Self-esteem and respect in family, school and society


Attention, focus and motivational improvement



Back
For the Pittsburgh school, contact njn@stargate.net or melacom.inc@verizon.net immediately to schedule an appointment for your FREE CLASS. For the Fort Lauderdale school, contact our Senior Master at master@chindadojo.org. During your visit at the Institute, you will enjoy a personal Interview with our Senior Master or Instructors, to define the strategies needed in achieving your development.

The Chinda Institute International is dedicated to presenting instructions in martial arts, meditation, and Far Eastern exercise techniques in a traditional, noncompetitive atmosphere. The emphasis is on creating a greater awareness of one's mind, body and spirit, and the personal power that awareness creates.
Led by our world renown Master, the Institute strive to provide the modern practitioner with the proper tools in understanding the philosophy and form of the various Art we offer.