Bonsai ("The tree in the pot")
The Bonsai class is held once a month. The student starts from the very beginning, working on his or her own plant (which can be a shrub, nursery material or others) by potting, root pruning, branch pruning, wiring and other specific techniques. It is an ongoing patient process to assist the development of your bonsai. The magnitude of the wild nature slowly is reproduced at a miniaturized scale in the student's pot. The bonsai combines the gardener's knowledge (plant growing, fertilizing, care and disease control, training, potting, etc), with the artistic skills and compositional criteria applied to the tree development. The tree has to develop three dimensionally, expressing the space, the power of nature and the struggle for life. It must keep intact the "spirit of the tree," which gives the essence of bonsai. Without this, the remaining is only a plant in the pot. On the other hand, the trees' shapes suggest the tranquil movement of the smoke in an incense pot, a deep invitation to meditation. The pot becomes a main part of the bonsai establishing an interactive relation with the tree.
It is a unique experience of Mind, Body and Spirit fusion to transform a shrub into a powerful symbol of life, harmony, tranquility and balance.
The Chinda Institute offers to the existing students workshops for Bonsai as well as for learning to produce the pots necessary for their Bonsai. When the class is announced, the necessary materials (plants, soils, etc) will be listed. Students have an option to get those materials on their own or the Institute will provide them, reflected in a small fee which includes also the charge for the equipment usage. The tools are the student's responsibility.
For more information about Bonsai, link to Pittsburgh Bonsai Society.





History of Bonsai
Noone knows exactly when the first bonsai was grown, but it is known that the ancient Chinese were experts in creating landscapes in shallow containers, complete with trees, rocks, moss and others, known as PENJING. The first recordings about Penjing appear in Chinese temple mural paintings, during the Han dynasty, around 200 BC.
The single tree planted in a pot came later, called "PUN-SAI." This is the Chinese root of the Japanese word "BONSAI", both translated as "Tree in a pot."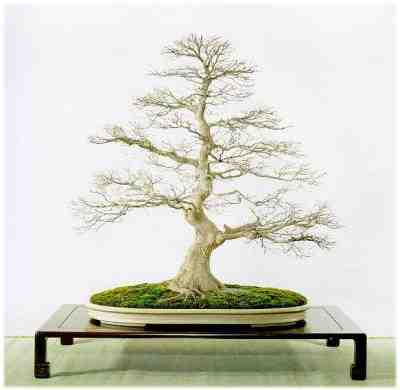 When the Chinese invaded Japan in the Middle Ages, they introduced the Buddhist religion, and, together with this, the Bonsai. For centuries the ownership of bonsai was restricted to those of noble birth or high office. All bonsai were created from old stunted trees collected from the mountains, where the harsh environment had restricted their size and given them gnarled and twisted shapes. The tenacity of these trees was held in such reverence that they were deemed to posses spiritual qualities which would be inherited by their owners.
It was not until this century that the ordinary citizen began to cultivate bonsai, by which time it had become a highly refined and structured discipline. (from Growing & Displaying Bonsai, C. Lewis, N. Shuterland)